ZAMBIA & MALAWI BUDGET LODGE SAFARI
A safari for travellers with a sense of adventure! This 16 day participation safari takes you on an epic exploration of the best wilderness areas in Zambia.
An exciting safari experience exploring the diversity of the lesser travelled South Eastern African countries. This tour is not for the faint hearted, and requires some patience; the travelling can be slow, some nights the accommodation is basic, however the journey offers amazing scenery and fantastic highlights, well worth the long travel days.
We recommend malaria prophylactics. 
ITINERARY
Day 1 LIVINGSTONE, ZAMBIA (Maramba River Lodge)
The group will meet in Livingstone, in Zambia. This afternoon, after the tour briefing, we explore Victoria Falls, a natural wonder of the world, plunging into the Zambezi Gorge.
​Included meals: breakfast, lunch and dinner at own expense.
Day 2 KAFUE, ZAMBIA (Gwabi River Lodge)
A long drive takes us across the rolling Miombo forested hills of southern Zambia and down into the Zambezi Valley lowlands, and our lodge on the banks of the Kafue River. We overnight here and enjoy the sunset from the elevated deck.
​Included meals: breakfast and lunch 
Day 3 – 4 LOWER ZAMBEZI CANOEING, ZAMBIA (1 x camping, 1 x lodge)
On day three we paddle down the mighty Zambezi River, home of the tribal mythical god Nyami Nyami. We canoeing past local riverside villages and magnificent scenery, and overnight at a campsite on Elephant Bones Island in the heart of untamed Africa.
​This is 'wild camping' – Wild camps have no facilities and so we will need to take our own water and all equipment. Wild camping can be very enjoyable but please remember that we leave no trace of our stay and take all rubbish away with us. Toilets will be of the "dig and bury" variety.
The following morning we continue our canoe safari through an area teaming with elephants, hippos and other wildlife. We will be collected by a motorboat, and transferred back up river to Gwabi River Lodge.
​Included meals: 2 x breakfast, 2 x lunch and 1 x dinner
Day 5:  PETAUKE – GREAT EAST ROAD (Chimwemwe Lodge) 
We head north to Lusaka, the capital of Zambia, where we stock up on supplies in the bustling shops and markets. Taking the Great East Road we pass small villages and street side markets, until at sunset we reach the Luangwa River.​ Please note that this is very long traveling day.
Included meals: breakfast, lunch and dinner
​Day 6 – 8 SOUTH LUANGWA NATIONAL PARK (Wildlife Camp)
On day six we make our way down into "the valley" of the South Luangwa National Park. This remote region is one of Africa's finest wildlife sanctuaries, and it's here that you'll find elephants, hippo, lion and leopard aplenty. Our lodge, on the banks of the Luangwa River, overlooks the National Park and you can frequently see hippos and elephants from the camp swimming pool! 
We explore the game management area and the National Park on game walks and open 4WD game drives, one at night with spotlights, to see nocturnal animals. (In the green season, Dec – Apr, walks may not be possible in which case we'll do extra game drives). 
There is time on the last afternoon either to relax in camp or take another game walk, game drive or village visit activity (own expense).
Included meals: 3 x breakfast and 3 x lunch 
Day 9 KUTI, MALAWI (camping)
We cross the border at Chipata into Malawi and make our way to the capital, Lilongwe where, we restock our supplies, before heading to Kuti Wildlife Reserve. This reserve is home to wide selection of big mammal species, including giraffe, wildebeest and zebra. The sable herds are the pride and joy of Kuti, flourishing in this environment and reaching over 100 animals.
​Included meals: breakfast, lunch and dinner
Day 10 – 11 MULANJE MASSIF, MALAWI (Kara O'Mula)
We tour one of Malawi's famous tea plantations in the Thyolo region before making our way to our lodge at the foot of Mount Mulanje.
Mount Mulanje's bare rock flanks tower to almost 3002m, dwarfing all that surrounds it, and influencing cloud patterns in the area, making it an important source of rain water at the head of almost every river in this part of southern Malawi. Formed about 130 million years ago, the first European to see the Massif was David Livingstone in 1859, but archaeological investigation reveals evidence of human activity since the Stone Age. On day 11 we take a guided day walk on the slopes to see the streams, waterfalls and towering peaks.
​Included meals: 2 x breakfast and 2 x lunch
Day 12 – 13 LIWONDE, MALAWI (camping)
Ancient baobab trees and swaying palms provide the backdrop for the magnificent southern Malawi reserve, Liwonde. Covering 548 km² Liwonde harbours Malawi's largest remaining elephant population and the critically endangered black rhino.
The River Shire flows along its western border, allowing us to enjoy a boat safari, and we'll take a game drive through the grassland and woodland habitats in search of leopards, elephants, hippos, antelopes and rare Lilian's lovebirds.
​Our camp is Mvuu Campsite, with shared facilities, a bar, and a restaurant. 
​Included meals: 2 x breakfast, 2 x lunch and 2 x dinner
Day 14 – 15 LAKE MALAWI, MALAWI (Mumbo Island)
Lake Malawi is the jewel of Malawi and one the Great Rift Valley lakes. We head to the Lake Malawi National Park where we take a boat to the secluded tropical Mumbo Island, near Cape Maclear.
The rustic lodge is an idyllic paradise with kayaks and snorkelling gear available to explore the island and snorkel with the jewelled fish, the endemic cichlids. The friendly people of Malawi make it the "warm heart of Africa".
Included meals: 2 x breakfast, 2 x lunch and 2 x dinner
Day 16 LILONGWE, SAFARI ENDS
Leaving the shores of Lake Malawi we return to Lilongwe. We offer a free drop service at Lilongwe Airport on day 16 at ± 11:00, so you can book your flight out on the last day of the safari.
​Included meals: breakfast
​​Price:
€ 2 690 per person sharing + local payment of US$300
From
€ 2 690 pps
+ $300 local payment
16 days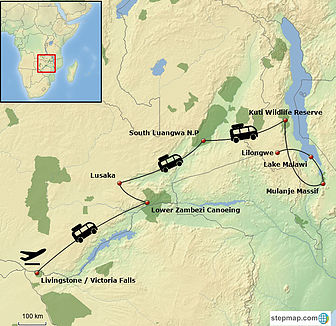 HIGHLIGHTS
Victoria Falls – natural wonder of the world

Lower Zambezi – canoeing

South Luangwa National Park – game walk & 4WD game drives

Mulanje Massif – tea plantations, hiking

Liwonde – boat cruise & game drive

Lake Malawi – snorkelling & island beaches 
Accommodation as per schedule

All camping equipment, snorkelling & kayaking gear

Meals as indicated

Activities as indicated

Experienced guide & skilled cook

Taxes and transfers

Drinking water

Mattress and pillows on camping nights

Guided full day cano
This safari has set departure dates:
2019
23Mar19 – 07Apr19
06Jul19 – 21Jul19 (German)
03Aug19 – 18Aug19
31Aug19 – 15Sep19
14Sep19 – 29Sep19
28Sep19 – 13Oct19
12Oct19 – 27Oct19
26Oct19 – 10Nov19
09Nov19 – 24Nov19 (German)
23Nov19 – 08Dec19
Bold dates: guaranteed to depart
Need help?
Let us help
We specialise in creating tailor-made, exceptional safari experiences to the best wilderness areas in Southern Africa. 
While we do offer set itineraries and packages, our regional specialists are experts at creating bespoke safaris to match your wish list, budget, specific requirements, and travel dates.