The Zambia Malawi Exploration Safari is for travellers with a sense of adventure! An exciting safari experience exploring the lesser travelled South Eastern African countries. This tour is not for the faint hearted – the travelling can be slow on some rough roads, but the journey offers amazing scenery and fantastic highlights.
This safari is a limited participation safari – from carrying your own bag, putting up and taking down your own tent to cleaning your own dishes and helping to pack the truck in the morning, it's all part of the adventure!
Malaria prophylactics are advised.
ITINERARY
Day 1 & 2: LIVINGSTONE (camping)
The group will meet in Livingstone, in Zambia, at 14:00 where we have 2 days to explore Victoria Falls, a natural wonder of the world, plunging into the Zambezi Gorge. Adventure activities abound, white water rafting on the mighty Zambezi, or a 111m bungi jump (own expense).
Included meals: breakfast
Day 3: KAFUE RIVER (camping)
A long drive takes us across the rolling Miombo forested hills of southern Zambia to the Kafue River where we camp the night.
Included meals: breakfast, lunch & dinner
Day 4 & 5: LOWER ZAMBEZI CANOEING SAFARI (camping)
We paddle down the mighty Zambezi River, home of the tribal mythical god – Nyami Nyami. Canoeing past local riverside villages and magnificent scenery. We camp wild on an island in the heart of untamed Africa. The following morning we continue our canoe safari through an area teaming with elephants, hippos and other wildlife. We will be collected by a motorboat, and are transferred back up river to our starting campsite.
Included meals: breakfast, lunch & dinner
Day 6: PETAUKE – GREAT EAST ROAD (Chimwemwe Lodge)
We head to Lusaka where we stock up on supplies in the bustling shops and markets of the Zambian capital. Taking the Great East Road we drive this afternoon until sunset. Please note that this is a long traveling day.
Included meals: breakfast, lunch & dinner
Day 7, 8 & 9: SOUTH LUANGWA NATIONAL PARK (camping)
Make our way down into "the valley" of the South Luangwa National Park. This remote region is one of Africa's finest wildlife sanctuaries where hippo, elephants, lion and leopard abound. We camp on the banks of the Luangwa River and explore the area on 2 game walks and 2 open 4WD game drives, one at night with spotlights, to see nocturnal animals. (In the green season, Dec – Apr, walks may not be possible in which case we'll do extra game drives).
Included meals: breakfast lunch & dinner
Day 10 & 11: LAKE MALAWI (camping)
Malawi "the warm heart of Africa". We re-stock with fresh supplies in the markets of Lilongwe before heading to our camp on the beach at Lake Malawi. We'll take a boat out to the islands to explore the fantastic bays and coves in the area.
Included meals: breakfast, lunch & dinner
Day 12: LILONGWE – TOUR ENDS
After breakfast you will be transferred by mini-bus from Lake Malawi, to Lilongwe in time to catch your departure flight.
Included meals: breakfast
Price:
€ 1 940.00 per person sharing + US$ 300 local payment
Price:
€ 1 940 pps
+ US$ 300 local payment
12 days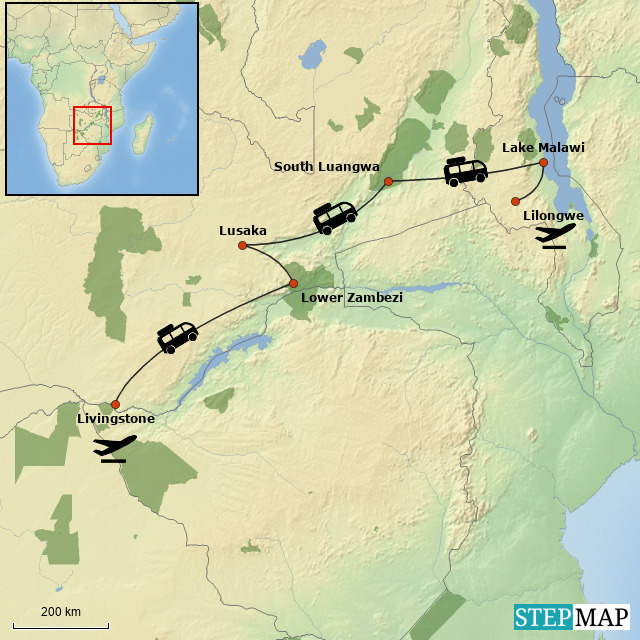 HIGHLIGHTS
Victoria Falls – natural wonder of the world
Lower Zambezi – canoeing
South Luangwa National Park – game walk & 4WD game drives
Lake Malawi – snorkeling & island cruise
INCLUDES:
11 nights camping
Use of all camping equipment (excluding sleeping bags & pillows)
Entrance fees
Transport in safari truck & 4×4 vehicle
Meals as per itinerary
Professional guide
Lower Zambezi Canoe Safaris
South Luangwa Game drives & walks
Lake Malawi Island Excursion
This safari has set departure dates:
2019
13Apr19 – 24-Apr-19
04May19 – 15-May-19
01Jun19 – 12-Jun-19
22Jun19 – 03-Jul-19 (German)
29Jun19 – 10-Jul-19
13Jul19 – 24-Jul-19 (German)
27Jul19 – 07-Aug-19
10Aug19 – 21-Aug-19
24Aug19 – 04-Sep-19
07Sep19 – 18-Sep-19
21Sep19 – 02-Oct-19 (German)
05Oct19 – 16-Oct-19
19Oct19 – 30-Oct-19 (German)
02Nov19 – 13-Nov-19
16Nov19 – 27-Nov-19
30Nov19 – 11-Dec-19)​
*Bold dates guaranteed to depart
Need help?
Let us help
We specialise in creating tailor-made, exceptional safari experiences to the best wilderness areas in Southern Africa. 
While we do offer set itineraries and packages, our regional specialists are experts at creating bespoke safaris to match your wish list, budget, specific requirements, and travel dates.