The Kalahari and Cape Luxury Safari is an 11 day journey through dramatic landscapes, unique wildlife viewing, and the Cape's renowned wine country.  You'll visit Tswalu Kalahari, South Africa's largest private game reserve, a place of diverse wildlife, absolute serenity and a wilderness experience few people get the chance to experience.  You'll explore Cape Town and the Cape Winelands at your own pace (on a 'self-drive' basis) allowing you to explore the area at leisure.
ITINERARY
Day 1: JOHANNESBURG (The Peech Boutique Hotel)
Upon arrival at Johannesburg International Airport, you will be met by a representative, and transferred to your hotel. The Peech Hotel, located in the leafy norther suburbs of Johannesburg, is spread out across beautiful gardens and is conveniently situated close to some world-class restaurants and entertainment areas.
For those recovering from a long flight, you can relax in the beautiful gardens, while for those who are interested in exploring the bustling city of Johannesburg, a wide variety of day tours can be arranged at the time of booking.
Included meals: n/a
Day 2, 3 & 4: TSWALU KALAHARI (Motse Camp)
You'll transfer by road to a private terminal at Johannesburg International Airport for your private flight to Tswalu Kalahari Private Game Reserve.
Located on the edge of the Kalahari Desert in a remote corner of northern South Africa, Tswalu Private Game Reserve is the largest privately owned reserve in South Africa, and Motse Camp is Fair Trade accredited and the recipient of a number of awards (including National Geographic Adventure's Top 50 Eco Lodges and the Spa Awards).
A stay in Tswalu is all about experiencing the wonders of the Kalahari in luxury and in comfort. Relax and unwind at the spa, around the swimming pool or in the comfort of your suite. Motse Camp is child-friendly, so if you are travelling with your family, let them be entertained on fascinating bush walks, star-gazing trips and sleep outs.
Forget what you think you know about the desert. The Kalahari covers much of northern South Africa, and is a place of rolling acacia grasslands – green in summer, yellow in winter – and supports a huge range of animals on a par with any other environment. Lion and cheetah thrive here, as do desert antelope and black rhino, and if you are after a 'mega-tick' or two, then Tswalu is arguably Africa's best destination for its two most elusive animals – the long-snouted aardvark and the highly endangered pangolin.
Motse offers amazing Kalahari game viewing, rewarding birdwatching and a number of exciting safari activities. Enjoy guided walks across the dunes, game drives in open-air safari vehicles, spot-lit night game drives, hot air ballooning, and trips to Bushmen rock engravings sites in and around the reserve.
Included meals: breakfast, lunch and dinner
Day 5, 6 & 7: FRANSCHHOEK (Babylonstoren)
Departing Tswalu via private flight to Cape Town. Upon arrival at Cape Town airport, you'll collect your hire vehicle for the remainder of your stay in the Cape area (contact us if you'd like a private guide for your stay).
From the airport, you'll make your way to the heart of the Cape Winelands – Franschhoek and Babylonstoren.
Simple and elegant, Babylonstoren offers a home where you can experience a slice of 18th century farm life without compromising on luxuries. Ideal for families as well as honeymooners and romantics, Babylonstoren lies in the heart of the Cape Winelands and is ideally located to explore the surrounding farms.
An ideal afternoon can be spent exploring Babylonstoren's 200 acres of working farmland, and visit the extensive and remarkable fruit and vegetable garden. If you're feeling active, take a walk or jog up the Babylonstoren koppie for fantastic views and a closer look at the indigenous fynbos vegetation, cycle through the vineyards, paddle on the farm dam in a canoe, or enjoy a massage at the Babylostoren spa.
You've got two full days to explore the remarkable Cape Winelands, home to some of best wines in the world and beautiful wine estates. Take your time, explore at your own pace and spend lazy afternoons at a variety of wine farms and world class restaurants all located in one of the most scenic areas in South Africa.
Included meals: breakfast
Day 8, 9 & 10: CAPE TOWN (Cape Grace Hotel)
The iconic Cape Grace is located at Cape Town's bustling Victoria & Alfred Waterfront. The hotel's décor is an innovative blend of historic and contemporary, mixing custom-made metal, glass and leather pieces with hand-painted fabrics and museum-quality antiques to create a look that is entirely its own. The hotel is ideal for those seeking elegant and luxurious Cape Town accommodation and is also a great choice for families.
The Cape Grace is in a prime position for those wanting to explore Cape Town. You set your own timetable, but be sure not to miss Table Mountain, Cape Point, Kirstenbosch Gardens, Hout Bay and of course the many stunning beaches in and around Cape Town, and fantastic restaurants.
Included meals: breakfast
Day 11: SAFARI ENDS
As you end your amazing trip with a difference there is time for some last minute gift shopping before making your way to Cape Town airport for your onward flight.
Included meal: breakfast
2019 Prices:
R 119 920.00 per person sharing (01Jan19 – 31Apr19)
R 116 920.00 per person sharing (01May19 – 31Aug19)
R 119 920.00 per person sharing (01Sep19 – 31Dec19)
Please note that above rates do not include the cost of vehicle hire while your are in the Cape. Please contact us for a quote for different types of vehicles.
From
R 116 920.00 per person

11 days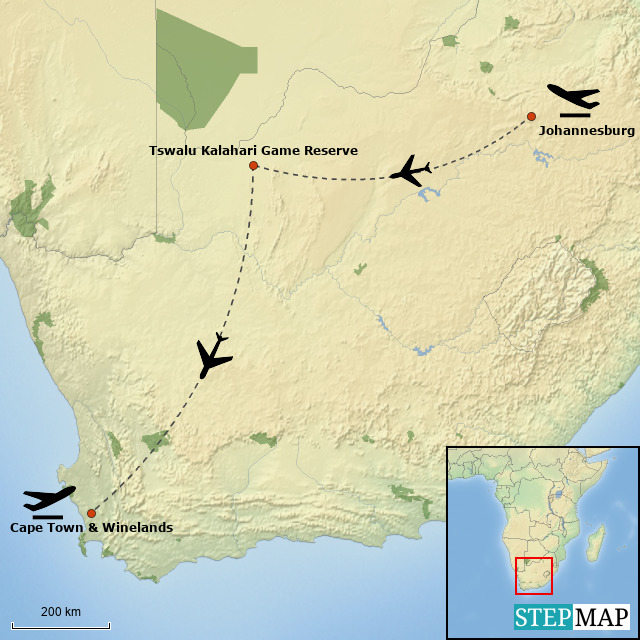 HIGHLIGHTS
Tswalu Kalahari – largest private game reserve in South Africa. A safari like no other – you'll keep coming back for more.

Franschoek – Stay at the beautiful Babylonstoren and explore the Cape Winelands from this unique boutique hotel
Cape Town – a bucket list destination. Table Mountain, Cape Point, Kirstenbosch Gardens, beautiful beaches and many more.
PRICE INCLUDES
All accommodation as per itinerary

All included meals. Your stay at Tswalu is fully inclusive of all meals & all drinks and all game viewing activities

Private charter flight from Johannesburg to Tswalu to Cape Town


Need help?
Let us help
We specialise in creating tailor-made, exceptional safari experiences to the best wilderness areas in Southern Africa. 
While we do offer set itineraries and packages, our regional specialists are experts at creating bespoke safaris to match your wish list, budget, specific requirements, and travel dates.